Whistic Wins Awards for
Best Cybersecurity Risk Management Solution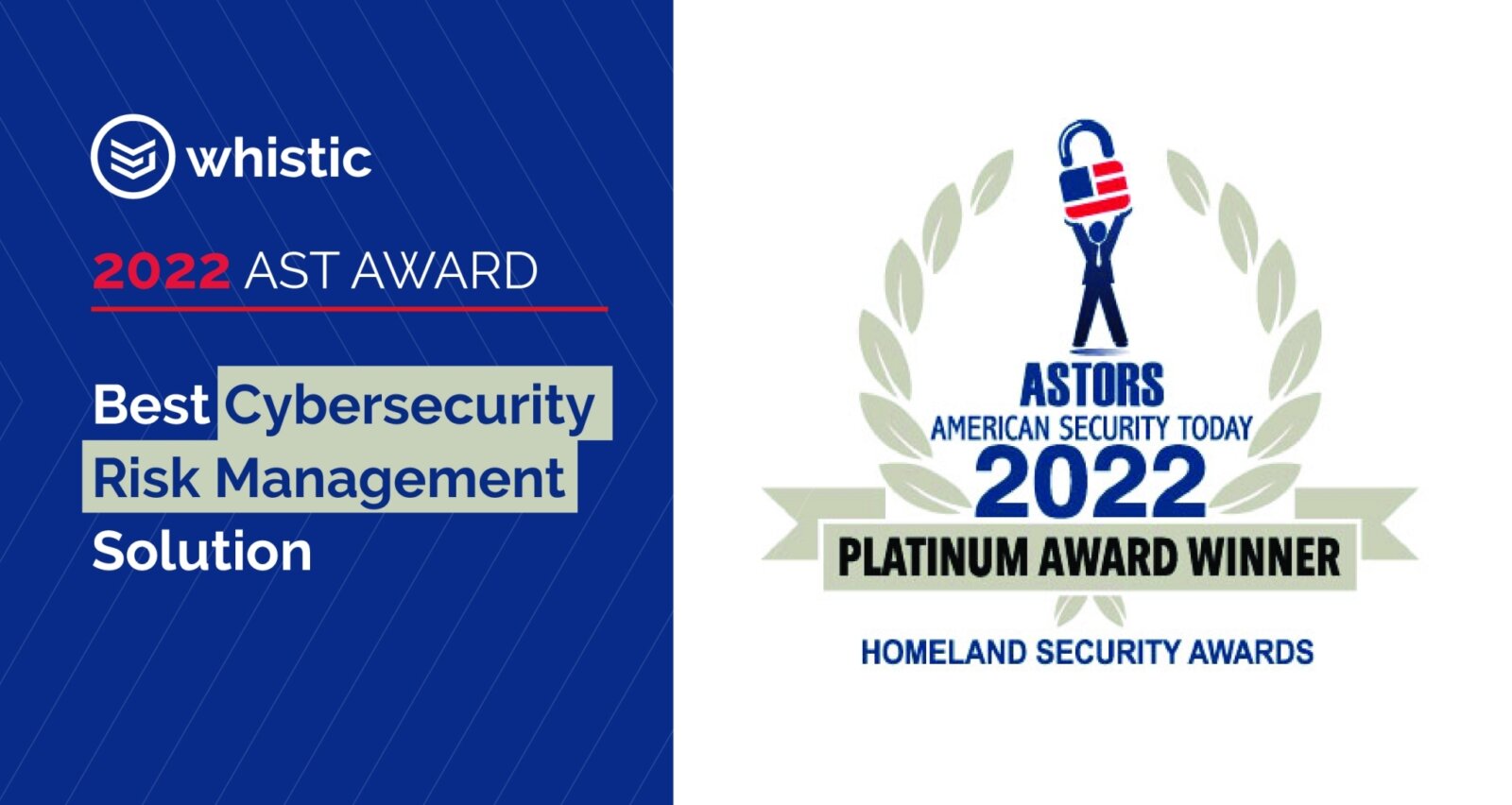 SALT LAKE CITY – (BUSINESS WIRE)–Whistic, the network for assessing, publishing and sharing vendor security information, is being honored this month for the value and effectiveness of its vendor security risk management solution. American Security Today acknowledged Whistic on November 16 with its Platinum Homeland Security Award for Best Cyber Security Risk Management Solution.
Cyber Security Award
Whistic received the Homeland Security Award from American Security Today at the 2022 Astors Awards Ceremony in New York City on November 16. The award recognizes Whistic for providing ​"Vendor assessments that are actually easy…(and) eliminate time-consuming, manual processes and replace them with an integrated and simple way to assess risk."
The 2022 ​'ASTORS' Awards Presentation gathered more than two hundred representatives of law enforcement, public safety and top industry leaders to honor the selfless service of those who stand on the front lines, and the technology vendors who stand beside them by providing solutions to create a safer world for generations to come.


About Whistic
Located in the heart of the Silicon Slopes in Utah, Whistic is the network for assessing, publishing, and sharing vendor security information. The Whistic Vendor Security Network accelerates the vendor assessment process by enabling businesses to access and evaluate a vendor's Whistic Profile and create trusted connections that last well beyond the initial assessment. Make security your competitive advantage and join businesses like Airbnb, Okta, Zendesk, Asana, Atlassian, Snap, Notion, TripActions, and G2 who are leveraging Whistic to modernize their vendor security programs.

Originally published on Business Wire, December 9, 2022.
https://​www​.busi​ness​wire​.com/​n​e​w​s​/​h​o​m​e​/​2​0​2​2​1​2​0​9​0​0​5​5​8​3​/​e​n​/​W​h​i​s​t​i​c​-​W​i​n​s​-​A​w​a​r​d​s​-​f​o​r​-​B​e​s​t​-​C​y​b​e​r​-​S​e​c​u​r​i​t​y​-​R​i​s​k​-​M​a​n​a​g​e​m​e​n​t​-​S​o​l​u​t​i​o​n​-​a​n​d​-​B​e​s​t​-​P​l​a​c​e​-​t​o​-​W​o​r​k​-​f​o​r​-​i​n​-Utah