Whistic
Secures $12M
in Series A Funding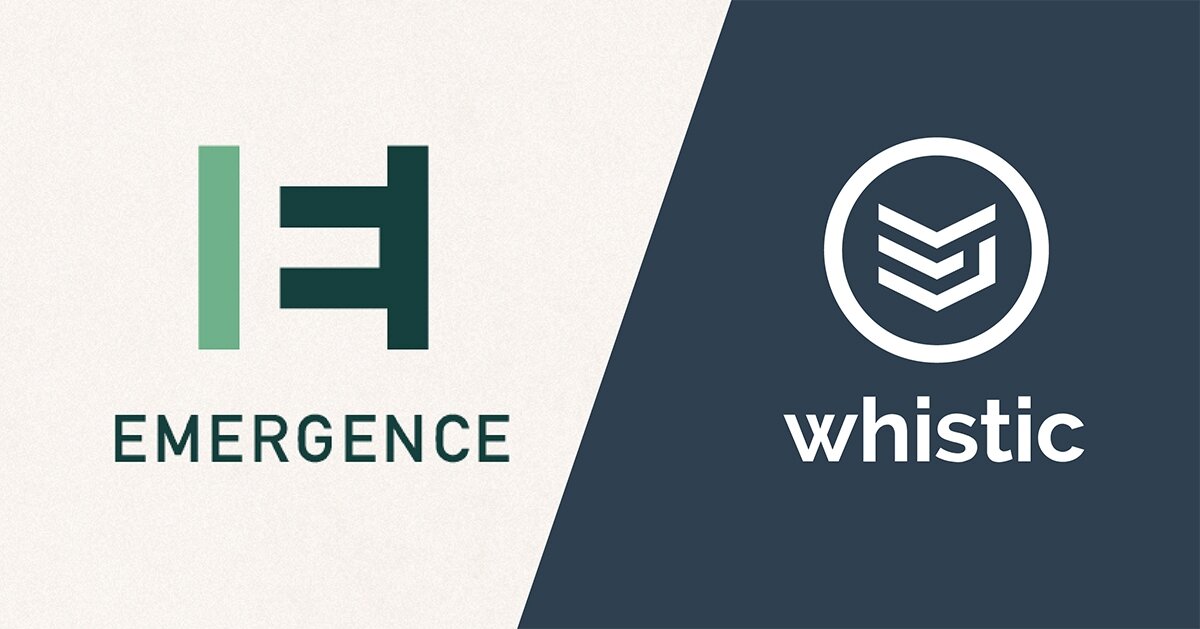 Proactive vendor security platform streamlines security reviews, shaving weeks from the process and enables trust and transparency from the start
July 29, 2020, Salt Lake City, Utah — Whistic, the proactive vendor security platform for both buyers and sellers, announced today the close of a $12 million Series A led by Emergence with participation from Album VC and existing investors. The funding will be used to scale operations and continue to hire top talent.
Whistic drastically reduces the time it takes for buyers and sellers to develop trusted relationships founded on transparency, security, and privacy. At a time when security and privacy are at the forefront of nearly every business transaction, Whistic reduces friction by automating and streamlining security reviews, enabling InfoSec teams to rapidly understand the security and compliance posture of a given company, and sales teams to proactively share their posture with customers.
"As more companies are realizing the importance of generating trust with their customers and validating trust with their third-parties, we are excited to offer a new, proactive approach to vendor security," said Nick Sorensen, Whistic CEO. ​"The alliance with Emergence enables us to continue to accelerate our growth and develop new ways for companies to evaluate security postures and build trust."
Emergence focuses its investments on early and growth-stage enterprise cloud companies that are focused on changing the way the world works, with Zoom, Salesforce, Box, Bill​.com and Veeva as part of their current portfolio. ​"We're excited to have Whistic join our family of market-defining companies at a time when quickly building and verifying trust is critical," said Gordon Ritter, Emergence Founder and General Partner. ​"The value the platform delivers for customers is unparalleled and we are looking forward to creating a new fabric of trust that speeds up the pace of business globally."
The funding underscores exceptional growth for Whistic.
Since its launch in

2019

,

The Whistic Trust Catalog

®

has grown

30

X, now with more than

14

,

000

company profiles that are accessible on-demand.
Profile shares and assessment requests have grown

3

X year-over-year.
Rapidly growing, world-class customer base including Airbnb, Okta, Betterment, Qualtrics, Finicity, as well as some of the top healthcare, manufacturing, energy, and education companies in the U.S.

Whistic has also recently expanded its partnership with some of the industry's most respected organizations including

FICO

®

, BitSight, RiskRecon, and the Cloud Security Alliance. These partnerships provide trusted third-party information which is visible alongside data published by the vendor, providing a more complete and validated picture of each vendor's security posture.
Whistic is also announcing today a new integration that empowers sales teams to proactively share their Whistic Profile with customers directly from Salesforce, dramatically simplifying the security questionnaire process and establishing trust early in the sales cycle. Customers have reported dramatic decreases in sales cycles, often by over one month, and security review turnaround times have dropped from four weeks to one day.
"Speed is important to us, and Whistic allows us to find information quickly," said Genevieve Buckley, Senior Manager, Security Assurance, at Okta. ​"Recently we had a very short timeline to assess a vendor, and we learned that they already have a profile in Whistic. We were able to turn it around by the end of the week."
"Security reviews move much faster, especially when others are part of Whistic already so we can take advantage of the double-sided marketplace that the platform offers," said Nate Jones, Security Program Manager at Airbnb. ​"Increasing the speed of reviews is important because it saves person hours, freeing time for us to work on other initiatives."
As part of the growth, Whistic recently welcomed two new senior executives, Duane Newman, VP Product and Tom Rhoton, VP Marketing, who come to the company from tenured roles at Symantec. Duane was previously Sr. Director of Product Management and brings strong experience in building and guiding product strategy, and Tom was VP Global Digital Marketing and Marketing Operations where he led all direct marketing efforts.
Emergence's Gordon Ritter has been named four times to the Forbes' Midas List of the top venture capital investors and currently serves as the Chairman of Veeva Systems, and Carlotta Siniscalco is a Senior Associate. Both investors will join the Whistic Board of Directors as a part of this funding round.
About Whistic
Located in the heart of the Silicon Slopes in Utah, Whistic is a leading provider of proactive vendor security and an innovator in changing the way that companies publish and evaluate security posture to build trust. Whistic is focused on building The Single Source of Trust for both Buyers and Sellers, helping companies to speed up the pace of business. The Whistic Trust Catalog® now contains over 14,000 company profiles that can be assessed on-demand, and notable customers include Airbnb, Okta, Betterment, Vonage, Qualtrics, and other world-leading brands within healthcare, manufacturing, energy, and education.
About Emergence
Emergence is the leading venture capital firm focused on early-stage enterprise companies. Its mission is to be the most valuable partner to the most important companies that are changing the way the world works. In 2017, the firm was named Venture Firm of the Year by the National Venture Capital Association (NVCA). Business Insider named Emergence one of the Top 10 Best Performing Venture Funds that launched between 2010 – 2012, which posted returns as high as 50% IRR. The firm's investments include companies such as Salesforce (CRM), Veeva Systems (VEEV), Box (BOX), Zoom (ZM), SuccessFactors (SFSF, acquired by SAP), Yammer (acquired by Microsoft), ServiceMax (acquired by GE) and Intaact (acquired by Sage). For more information on Emergence, visit www​.emcap​.com and follow @emergencecap.